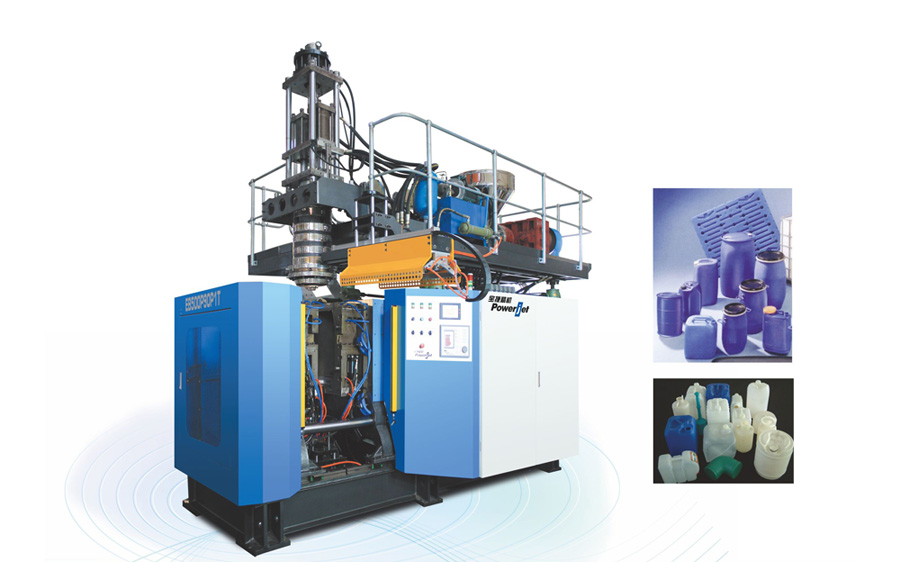 Vertical Fixed Mold Platen Extrusion Blow Molding Machine
Double stations and linear guide movement, high intensity stainless steel mould platens, driven by hydraulic pressure, designed and analyzed by finite element aided software, ensure big clamping force, no expansion of mold.
High span central supporting mould platens make the movement stable and less wearing; central clamping with large mold open stroke ensures the even clamping force and keeps the mold platens in deformable.
Specially designed screw with high L/D ratio insures good plasticizing and stable extrusion; high precision and no part line die head guarantees customers' top-quality requirement.
Multi-screw & multi-die head can be adopted to improve the quality of the product and lower down the cost of material.
Famous brand of vector inverter in high pulling torque, complied with special extrusion hardened reducer, can operate in stable, durable, and low noise state.
All hydraulic parts are from Yuken (Japan) . Pressure & proportional control are set by PLC, which ensures the stable operation ; Mold movement is controlled by special speed limited valves, ensuring precise position and non-striking.
Parts of pneumatic system are imported from FESTO (Germany), SMC (Japan), etc, which are top brands in the world. These make sure the operation of machine reliably and accurately; the air circulation is large while the leakage is very small.
High speed Siemens (Germany) PLC with multiple language touch screen, easy-access menu display, is easy to control and operate.
Schneider (France) touchless sensors and switches are adopted, which are dependable and in low heat, & prolonged life.
Multiple-way PID controlled temperature heating is precise and stable. . Parison controller is optional to reach high quality products and reduce cost.
Fully automatic operation can be achieved by optional equipments like auto-deflashing, rotary trimming device, or separated rotary trimming equipment.
Model
Unit
EB250P
EB500P
Max. Volume
L
30.0
60.0
Clamping Force
KN
200
400
Dry Cycle Time
Sec.
6.0
8.0
Screw Diameter
mm
85
100
Screw L/D Ratio
mm
24
25-28
Screw Rotary Speed
RPM
70
75
Extrusion Weight(HDPE)
kg/hr
110
160
Extrution Motor Power
KW
30.0
55.0
Pump Motor Power
KW
22.0
22.0
Heating Power
KW
35.0
40.0
Operation Pressure
Mpa
0.6 – 0.8
0.6 – 0.8
Air Consumption
m3/min.
2.0
2.5
25°C Chilled Water Consumption
L/min
120
150
Machine Dimension
M
4.7×3.5×3.4
5.3×3.4×4.25
Machine Weight
Ton
11.0
13.0
* Some data may updated without any notice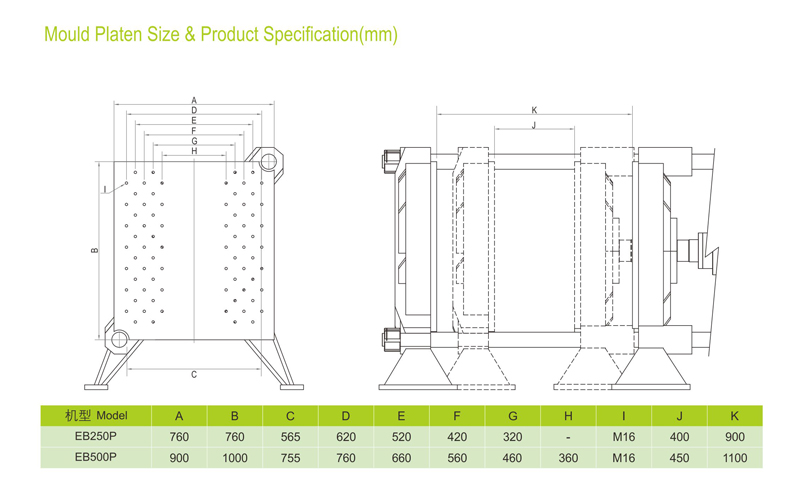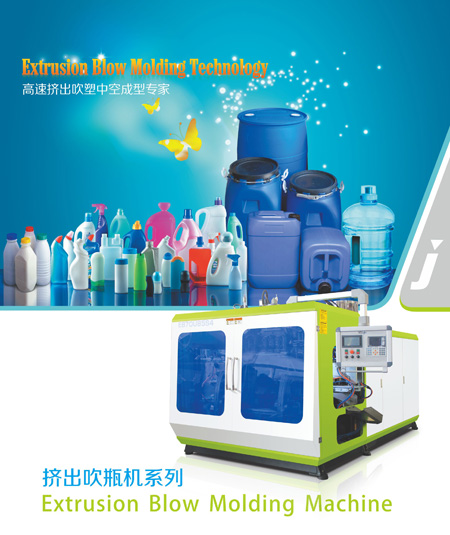 What you can get:
Advantage unit for Powerjet Extrusion & Blow Moulding Machines
1.0 liter automatic extrusion blow molding machines` details
2.5 liter automatic extrusion blow molding machines` details
5.0 liter automatic extrusion blow molding machines` details
4.0/7.0/10.0 liter double station high speed extrusion molding machines` details
12.0/30.0 liter double station high speed extrusion molding machines` details
30.0/60.0 liter vertical fixed mold platen extrusion blow molding machines` details
Optional auxiliary equipments for extrusion blow molding machines` details