BJ Series – Standard Injection Molding Machines
Control System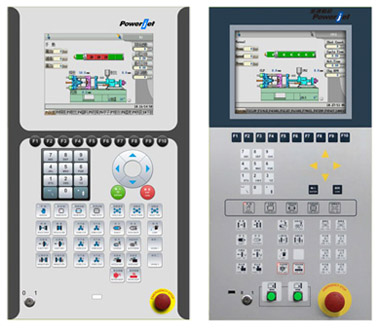 Latest technology from Techmation.
High resolution LCD screen with optimized panel layout for convenient machine operation.
High speed CPU increases capacity for memory to meet the requirements of system control.
200 sets of moulds information storage. SD card/USB input for large-scale production management.
Network communication port to achieve the fully automation of production.
Auto detect the injection status to make sure the machine running correctly and products normal data.
Machine can be stop by forming numbers.
Mould auto adjucting with clamping force.
Clamping System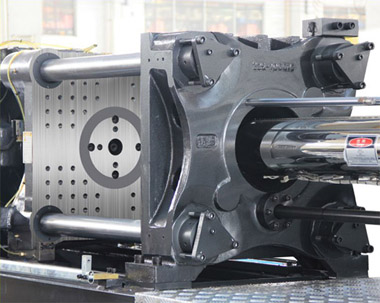 Five pivots double toggle mould clamping mechanism is featured with fast opening and clamping, stable and energy saving
Differential fast mould clamping device effectively reduces cycle time and increases working efficiency of the machine.
Reliable low pressure protection function greatly prolongs the service life of the moulld.
T-slot platen makes fixing the moulds more convenient (Optional)
High precision electric meter is used to control position up to 0.1mm
Mechanical and double electric interlock protection devices guarantee the safety of the operators. (Machines above 400T is also equipped with hydraulic safety device)
Wear resistant hard chromium plated tie bar is featured with high-tensile and high strength
Hydraulic motor with centering gear mould adjusting system makes mould adjusting system to be better.
Injection System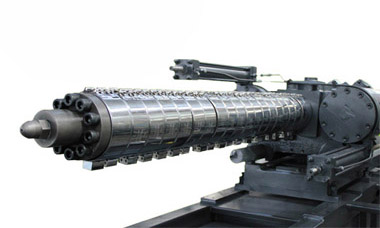 Double cylinder balance injection mechanism provides high-pressure injection. Very easy for maintenance.
Precision electronic meter control on material injection,molten stroke.
Machines above 250 ton adopts double injection cylinders to prevent injection nozzle displacement and avoid material leakage.
Lubrication System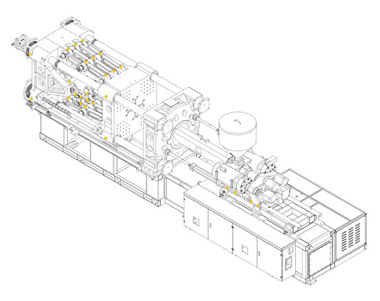 Major friction parts are equipped with lubrication points
Central oil supply system is used for hinges. Electric lubricant pump controlled by computer sends automatically lubricating oil (grease) to lubrication points.
Intelligent volumetric centralized lubricating system, controlled by computer, sends quantitatively lubricating oil (grease) to wearing points, and guarantees that the key carrying surface and lubricated reliably.
Simpl theory, convenience and visual for fast repair.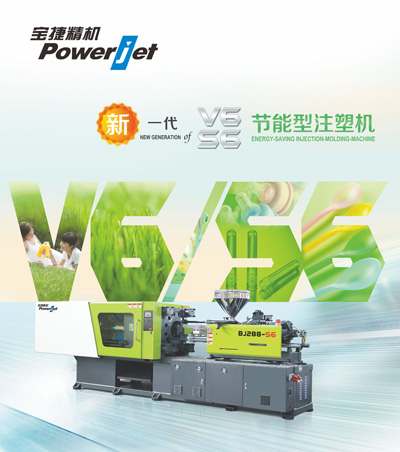 What you can get:
Introduction & Service of Powerjet Plastic Machinery Co., Ltd
Brief Feature of Machines` Control Unit, Clamping Unit,Injection & Lubrication Unit
Machines` standard devices and optional configuration parts list
Main Characteristic for BJ Series – Standard Injection Molding Machines
Main Technical Parameters of Standard Injection Molding Machines
Platen Dimensions Details for all models of Standard Injection Machines
Simple introduction of Powerjet special used machines series
A brief List of brand parts