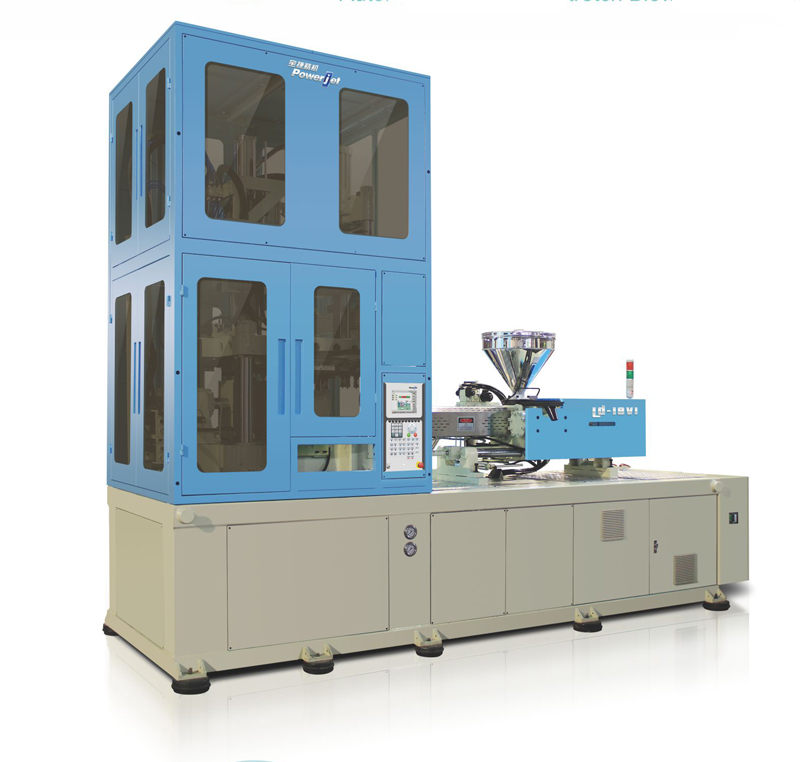 One-step Injection Stretch Blow Molding Machines – LD18
Why to Choose One-step Injection Stretch Blow Molding Machines
Along with the increasing demand of the quality on packaging containers for food, pharmaceutical, cosmetic and high-grade daily necessities, the automatic injection & stretch blow molding technology is adapted to the needs of the market. By using this technology, the product is finished in one step from preform injection, forming by stretch & blow, to ejection. The One-step Injection Stretch Blow Molding Machines can reach no flash, no deflashing material, avoiding double pollution, and the products have good quality on appearance, smooth mouth and excellent sealing. The technology has the advantages of realizing light weight on production process, with high speed, high efficiency, and energy saving etc
Production line advantage produced by 1-step injection stretch blow molding machines
ECO-Friendly: One machine to finish injection, stretch & blow molding. Less workers to operate,packing, handling and storage. Energy saving and less space.
Cleanness: No extra work from preforms to final products. No human pollution caused.
Reliability:The machine adopts the servo motor system, the energy-saving effect is more obvious and thus make the machine work steady, accuracy and reliable.
Working principle of Single-stage Injection Stretch Blow Molding Machines
* The one stage injection stretch blow molding machine was designed with rotary platen to reach high automatic and efficient and precision. Four process of preform injection, temperature adjusting on preform, forming by stretch & blow molding and ejection are finished at the same time. No additional process needed and one-step injection stretch blow molding is realized.
* This one stage injection stretch blow molding machine was controlled by two synchronous system. It`s fast, stable and precise. It`s suitable for products with requirement of high accurate size, pollution free, high efficient. Like baby feeding bottles, water cups, water bottles, food containers and other high quality buckets and containers.
* The vertical rotating platen was controlled by servo. Four stations are separated controlled as well. It`s very convenient to adjust the forming process.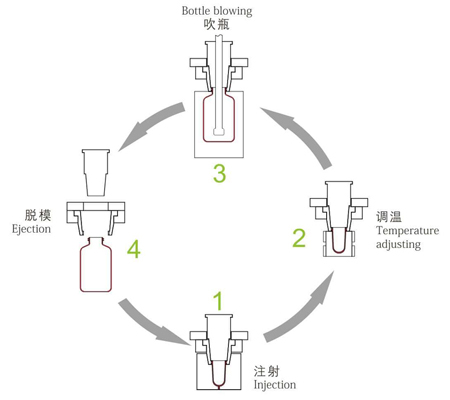 Product Model
 Unit
LD18-V2
LD18-S2
Screw diameter
mm
36
42
46
67
75
83
Injection Pressure
Mpa
259
190
159
174
139
113
Shot volume
cm3
183
249
299
987
1237
1515
Shot weight (@PS)
g
163
222
267
927
1162
1350
Shot weight (@PET)
g
201
275
330
1150
1439
1762
Shot weight (@PC)
g
186
255
305
1060
1328
1627
Shot weight (@PPSU)
g
200
272
328
1139
1428
1749
Shot weight (@PP)
g
140
190
229
795
996
1220
Screw stroke
180
280
Screw speed
rpm
225
180
CLAMPING UNIT
Injection Mold Clamping Force
KN
165
600
Injection Mold Opening stroke
mm
385
520
Injection Mold Height
mm
290
55
Blowing Mold Clamping Force
140
580
Blowing Mold stroke
mm
110-190
350
Shape of blowing mold platen
mm
350×265
500
Min. Mold height of blowing mold
mm
80
900×600
Max. Mold height of blowing mold
mm
270
250
Rotary lift
mm
420
750
POWER UNIT
Hydraulic system pressure
Mpa
16
17.5
Pump motor power
KW
22.5
75
Heater power
KW
12.5
45
Blowing air pressure
Mpa
3.0-3.5
3.0 – 3.5
Blowing gas flow
NL/min
1450
1500
Pneumatic system pressure
Mpa
0.8
1
Pneumatic system flow
NL/min
300
400
GENERAL
Oil tank capacity
L
460
1600
Machine Weight
Ton
6.1
20
Machine Dimensions(L*W*H)
M
4.86×1.63×3.5
6.03×2.25×3.8
* Baby feeding products in PP/PA/PPSU/Tritan:
baby feeder(milk bottles), Children water cups/bottles
* Daily Necessities in PC/PET/Tritan:
Sport water bottles, 5 Gallon water bottles
* Packing products in PC/PET:
Cosmetic packing, Pharmaceutical packing, Beverage bottle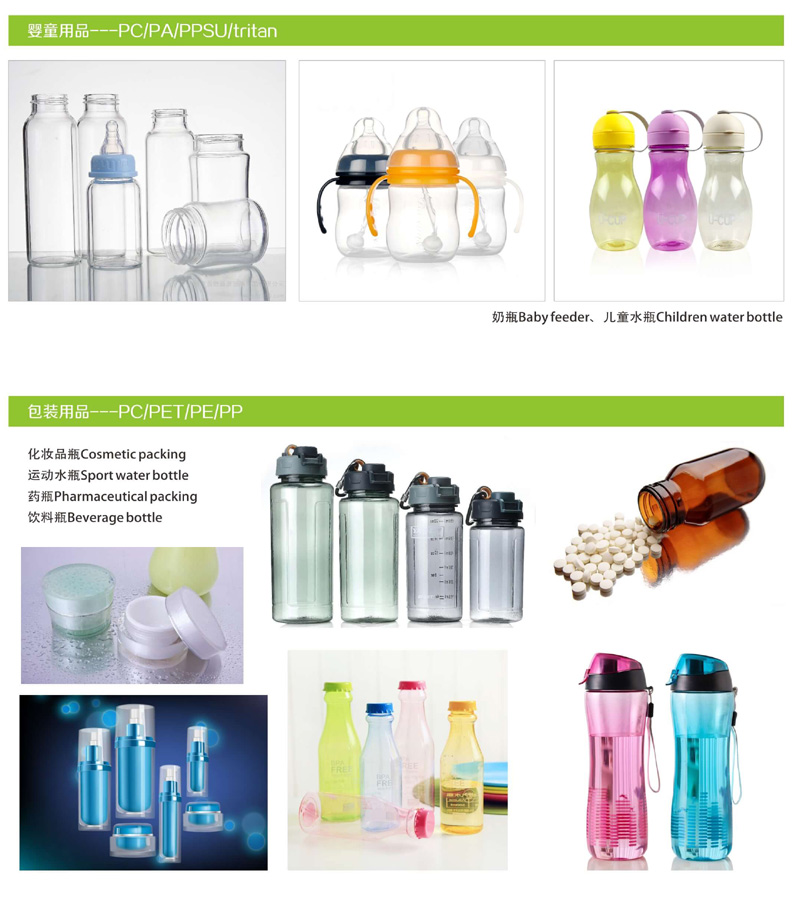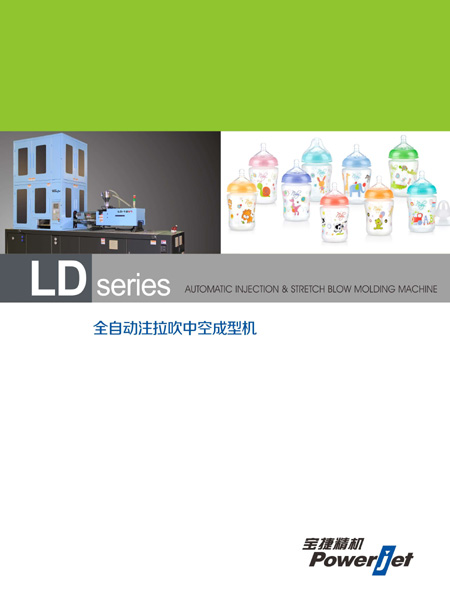 What you can get:
Advantage of One-step Vertical Injection Stretch Blow Molding Machines
Working principle of this single-stage injection stretch blow molding machine
Parameters of One-step Vertical Injection Stretch Blow Molding Machines
Product specifications of this Injection Stretch Blow Molding Machine produced
Products application of the Injection Stretch Blow Molding Machine
Suitable materials application of the Injection Stretch Blow Molding Machine
Factory pictures and our contact details
How it`s made baby feeding bottle – produced by automatic vertical injection and stretch blow molding machine