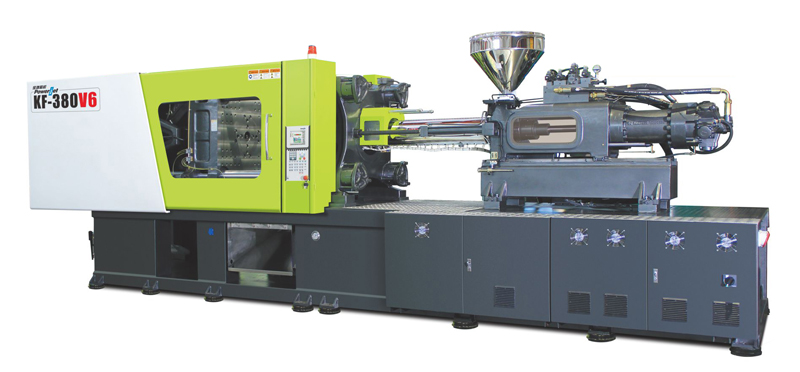 High Speed Thin-wall Injection Molding Machine
Innovative design of plasticizing system achieves low-temperature injection; Energy saving and eco-friendly;
And the products is high resilient and fracture toughness
Advanced hydraulic system achieves low pressure injection; better protection for the mechanical parts and mould.
Fast response speed. Reach the best shot rate within 0.3 second.
Brandnew 3-platen clamping design. Better stress distribution and higher ragidity and more stable.
Special oil-circuit design, it improves the injection acceleration & movement.
Unique cylinder injection, more stable and faster injection rate.
Multi-sets of air blowing ports for high speed production.
Description
UNIT
KF-168V/S
KF-208V/S
KF-258V/S
KF-308NS
KF-308S
KF-408S
International Size
1600-340
2080-502
2500-502
3300-1266
3380-1266
4080-2061
CLAMPING UNIT
Clamping force
KN
1600
2080
2580
3080
3800
4080
Opening stroke
mm
440
490
520
550
580
710
Max.daylight
mm
940
1040
1100
1150
1230
1440
Platen size
mm
705×705
800×760
800×760
910×900
1000×1000
1050×1050
Bars distance
mm
460×460
505×505
560×490
620×570
670×670
730×710
Max.mold height
mm
500
550
580
600
650
730
Min.mold height
mm
160
230
230
250
240
300
Ejector stroke
mm
140
145
145
145
180
210
Ejector force
KN
49
65
77
77
77
77
INJECTION UNIT
Screw diameter
mm
42
42
46
52
60
68
Screw L/D ratio
22
22
22
22
22
22
Injection Pressure
Mpa
191
190
189
170
197
192
Shot volume
cm3
201
201
299
425
763
1126
Shot weight (PS)
g
179
179
266
379
681
1005
Injection rate(PS)
g/s
225
225
294
512
510
514
Screw stroke
mm
145
145
180
200
270
310
Screw speed
r.p.m.
300
300
300
300
300
300
POWER UNITE
Hydraulic Pressure
Mpa
17.5
17.5
17.5
17.5
17.5
17.5
Pump motor power
KW
22
22
30
55
55
55
Heat power
KW
14
14
16.4
25
28.4
40
GENERAL
Oil tank capacity
L
340
420
420
680
810
1000
Machine weight
Tons
4.6
7
7.5
10.5
13
15
Dimensions
M
4.8×1.35×1.8
5.5×1.4×2.1
5.6×1.4×2.1
6.4×1.6×2.3
6.8×1.9×2.3
7.5×1.65×2.3
* Some data may updated without any notice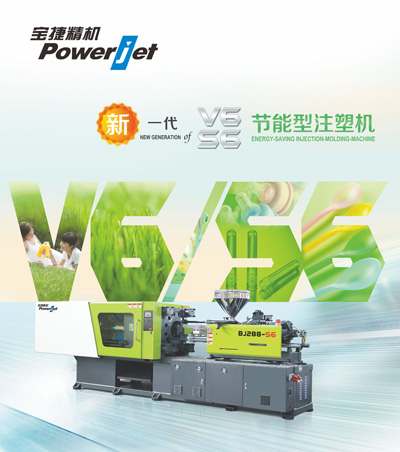 What you can get:
Introduction & Service of Powerjet Plastic Machinery Co., Ltd
Brief Feature of Machines` Control Unit, Clamping Unit,Injection & Lubrication Unit
Machines` standard devices and optional configuration parts list
Main Characteristic for BJ Series – Standard Injection Molding Machines
Main Technical Parameters of Standard Injection Molding Machines
Platen Dimensions Details for all models of Standard Injection Machines
Simple introduction of Powerjet special used machines series
A brief List of brand parts