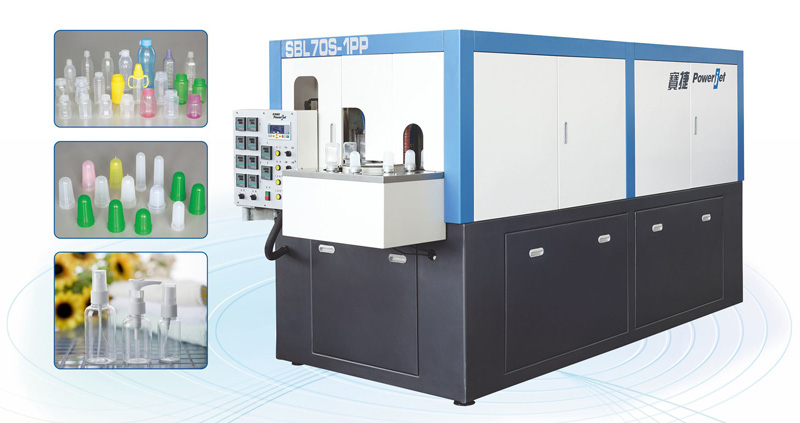 Automatic Stretch Blow Moulding Machines for PP Bottles
The wall of the PP product is even, with the transparency nearly the same as PC and PET bottles. PET bottle has the disadvantage of not standing the high temperature, and PC bottle contains bisphenol A. But the PP product can cover both of the above shortcomings.
It is suitable for:
transparent medical dropping bottle and hot-filling bottle
sport drinking water bottle
feeding bottle for baby
Advantage Features:

Five pivots toggle mould clamping is featured with big clamping force and stable performance.
Combined heating and blowing in one machine, it is safe to operate, stable and high -efficient without skillful worker.
High-speed PLC is adopted from OMRON, with multi-language HMI, easy for operation, stable in technical parameter.
The pneumatic circuit system is adopted from AIRTEC (Germany) & SMC (Japan), precise, stable and longer in service life.
With the multiple stage design and the use of special lamps for PP heating, it has a good transmissivity, makes sure even heating, high efficiency and suitable for different height of PP preform. The bottle neck cooling protection keeps its shape.
Close-loop heating control system with corresponsive high accurate digital display and controlled by PLC, makes sure stable heating , energy saving and not to be affected by fluctuated voltage.
Imported servo system is adopted to the conveying of the preform. It provides quick response, stable operation, and no shaking; Replaceable heating base heads make the operation and maintenance in low cost.
Turn key project is offered for the PP preform design & production, and bottle blowing.
Description
UNIT
SBL70-1
SBL70S-IPP
SBL70S-IIPP
Clamping force
KN
70
70
70
Mold height
mm
180~220
180~220
180~220
Mold open stroke
mm
150
150
150
Bottle capacity
ml
1000
1000
1500
Reference oput
BPH
600
600
600
Max. diameter of neck
mm
90
90
90
Max. diameter of bottle
mm
110
110
110
Max. height of bottle
mm
250
250
310
Mold cavities
1
1
1
Central distance
mm
–
–
–
Power rating
KW
32
60
48
Power consumption
KW
<22
<42
<34
Operation pressure
Mpa
0.8
0.8
0.8
Air Consumption
M3/min
1.5
1.5
1.5
High pressure
Mpa
3.0
3.0
3.0
Air Consumption
M3/min
1.5
1.5
1.5
Machine dimensions
M
2.6×1.35×1.9
3.63×1.35×1.9
3.63×1.35×1.9
Machine weight
Ton
0.9
1.7
1.8
* Some data may updated without any notice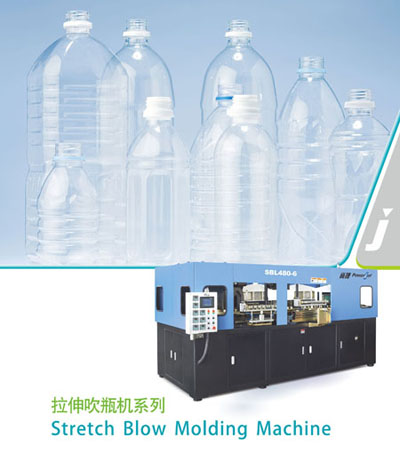 What you can get:
Simple introduction of Powerjet Plastic Machinery Limited
Advantage unit for Powerjet Stretch & Blow Moulding Machines
Details of semi-automatic PP blow molding machines SBL70
Details of automatic stretch blow moulding machine SBL280
Details of automatic stretch blow moulding machine SBL480
Details of automatic hot-filled PET molding machine SBD480
Details of jar/wide-mouth bottles stretch blow machines SBS480
Details of automatic stretch blow molding machine SBS280-1W
Details of Powerjet infrared furnace heater